Directory
Looking for a specific part? Thinking about tuning your Volks? Need to get it restored and serviced? Or you just want a bit of information? Then look no further, find what you need in our Directory.
**** WELCOME TO PTT BUMPER – THE BEST BUMPER FOR CLASSIC CAR! I hope our new products finds you in a perfect condition. We are specialized in bumper field,with good quality. All models of our bumpers such as VOLKSWAGEN, VOLVO,MERCEDES BENZ, OPEL REKORD, FORD CAPRI, JAGUAR, TRIUMPTH, REMAULT, etc, are made of one the best solid stainless steel SAE 304 which never gets rusty, 1.5-2mm thickness and polished surface. Besides all the products shown on my website, we can duplicate all kinds of bumpers or metal parts from original sample for fitting,shape and dimension, etc...(100% resemblance compared with original). If you have any questions, please contact me now for further details. If you are interested , Please ask me to quote for you by mail: ptt-cathy@sgbumperscar.com Thank you for your time.
Ho Chi Minh City, Vietnam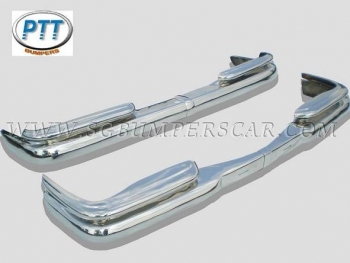 UPSW Auto Parts is a top exhaust system, exhaust tip, muffler, and performance exhaust part distributor. We also sell and ship catalytic converters, exhaust accessories, performance auto parts and more. For more than three decades, UPSW has cultivated a a reputation for selling low cost, high-quality performance exhaust parts, catalytic converters, and exhaust accessories with quick turnaround time.We are located in Union City, New Jersey, (NJ). We stock exhaust systems, exhaust parts, catalytic converters, and performance exhaust accessories for most common car brands. We ship within 1 business day in the continental United States (USA), but you can contact us for orders to Hawaii, Alaska, Puerto Rico, U.S. Virgin Islands, or international shipping.
Union City, USA
Robert's and Son is a family owned business founded in 1967 and currently located in a 70,000 square foot building in Garfield, NJ (New Jersey). We have millions of dollars in inventory of parts like starters, alternators, and lights for HD trucks, & agriculture equipment and machinery, marine vessels and equipment, industrial units, construction machinery, forklifts fire apparatus and more. We're just a few minutes from the Garden State Parkway, The New Jersey Turnpike, and Interstate Route 80, a few miles west of New York City, but we ship our parts nationwide. In addition to our OEM starters, lights and alternators, we have a wide variety of parts for many different machines. From power inverters for utility work trucks, to trailer maintenance parts, or even warning and hazard lights for your snowplow, Robert's and Son really does have it all. Call us, email us, or check out our online store for all of your truck and machinery part needs.
Garfield, USA